Children's Resources
Various classes are being taught Sunday morning during Gurdwara, 11:15 am - 12:00 pm in the Children's Gurdwara (in the room just outside the main Gurdwara), so our children can learn more about Sikh Dharma practices, teachings & culture. Bring your children and get in on the experience. Then around 12:00 pm, the children lead the sangat in Celestial Communications and song. All children are welcome to participate.
The Ashram provides a fun playground for our children. It is located adjacent to the Quad and Hacienda de Guru Ram Das Ashram and the parking lot.
La Tierra Montessori
La Tierra Montessori School of the Arts and Sciences is a charter school that serves K-8 students in Española, NM and the surrounding communities. The Montessori philosophy is a multi-sensory, child-centered approach developing academic, social/emotional and creative skills with the understanding that children are naturally inquisitive and learn at different rates. This hands-on approach gives children freedom to make learning choices within a structured environment. Multi-age classesallow instructors to facilitate learning in a more natural way than standard single age classrooms. We believe the purpose of education is to serve the nature of the child, not work against it. http://montessorilatierra.org/
Santa Fe Waldorf School
Santa Fe Waldorf School is proud to be the only private school in the area to offer a complete educational journey from preschool through high school for approximately 210 students. In keeping with Waldorf's keen commitment to celebrating nature, the school's campus sits on 13 lush acres at the edge of the mountains. https://www.santafewaldorf.org/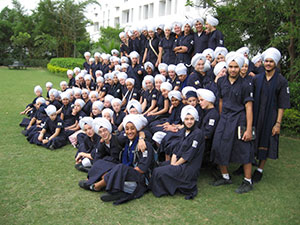 Miri Piri Academy
Miri Piri Academy is an international boarding school for students in grades five through twelve. Our students come to Amritsar, India from all over the world to find a place where they can combine a rigorous academic curriculum with daily spiritual and yogic practice. To learn more about the school or contact Admissions, visit their website at www.miripiriacademy.org.