A History of Hacienda de Guru Ram Das Ashram

When I arrived at Hacienda de Guru Ram Das, it was the fall of 1974. I was picked up the night before at the bus depot in Albuquerque, and took the long, lonely drive to Espanola. It was a dark night, and not a thing could be seen stretching on either side of the narrow road. No cars were on our side of the road as we drove north, and no cars passed us heading south – so it seemed like hours of driving with the highlights shining into empty blackness.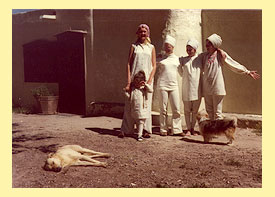 But daylight proved me wrong. The ashram was alive with activity. They ate their meals together, and I joined the group for breakfast outside the "main house." In the spot where the Gurdwara now stands were two tall Chinese elm trees shading some picnic benches with about 25 young people eating breakfast. Some had turbans, some did not, but everyone had long hair and skinny limbs. The boiled wheat berries and milk that was served for breakfast certainly contributed to the general good health, but edgy attitudes.
There was no cost for living and eating at Hacienda de Guru Ram Das, but everyone was expected to work as they were assigned. Some people stayed in Espanola and worked the land or helped in the community kitchen. But most of us traveled to Santa Fe every day to work at the Golden Temple Restaurant – which is now Pasqual's on Water Street – either as cooks, dishwashers or waitresses. The best thing about working at the restaurant was that it was the only opportunity to eat as much as you wanted.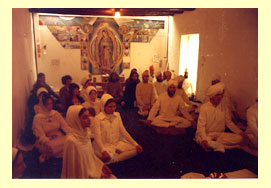 In 1974, the Main House was the center of activity. Wha Guru Singh and Wha Guru Kaur were the ashram leaders, and they lived in a single room where the receptionist office is now. Gurumukh Kaur and her husband lived in the little room which now holds the Xerox machine. Papaji, the Siri Singh Sahib's father, lived in the room next to that. The Ashram Office was across the hall and that's where I lived and worked – keeping my clothes and sheepskin under the desk during the day and sleeping on the floor at night.
Down the hall was the only bathroom in the building, the kitchen was on the right - where Sikhnet is now, and the sadhana room was on the left. There was no mural yet, but it was in process and the niche had already been constructed for the Akhand Path which occurred twice each week, back-to-back. At the end of the sadhana room, which now opens into the Gurdwara, was a lovely kiva fireplace with a gigantic picture of the Siri Singh Sahib, a.k.a. Yogi Bhajan, over the mantel.